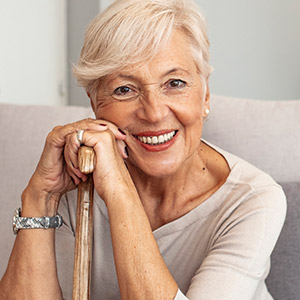 We can't stop getting older or completely avoid many of the consequences that come with aging. Even so, there are things we can do to age more gracefully.
That includes your smile, which can also suffer the ravages of time. Teeth naturally wear and yellow over the years. We're also more susceptible to both tooth decay and periodontal (gum) disease as we age.
You can help slow some of these age-related dental problems by simply caring for your teeth and gums. This includes not only brushing and flossing every day to remove dental plaque (which can cause disease and dull your smile), but also seeing a dentist every few months for more thorough cleanings.
You can also take advantage of certain cosmetic enhancements to address some of the age-related issues that could keep you from having a more youthful smile.
Discolored teeth. Teeth tend to get darker over time, the combination of stain-causing foods and beverages, habits like smoking and age-related changes in tooth structure. You may be able to temporarily attain a brighter smile with teeth whitening. For a more permanent effect, we can cover stained teeth with porcelain veneers, dental bonding or dental crowns.
Worn teeth. After decades of chewing and biting, teeth tend to wear, with habits like teeth grinding accelerating it. This can cause teeth to appear abnormally small with hard, sharpened edges in contrast to the soft, rounded contours of younger teeth. In some cases, we can restore softer tooth edges with enamel contouring and reshaping. For more severe wearing, veneers or crowns could once again provide a solution.
Recessed gums. Because of gum disease, over-aggressive brushing or a genetic disposition to thinner gums, gums can shrink back or "recede" from normal teeth coverage. This not only exposes vulnerable areas of the teeth to harmful bacteria, it can also make teeth appear longer than normal (hence the aging description, "long in the tooth"). We can address recession by treating any gum disease present and, in extreme cases, perform grafting surgery to help rebuild lost tissue.
Losing your attractive smile isn't inevitable as you get older. We can help you make sure your smile ages gracefully along with the rest of you.
If you would like more information on keeping a youthful smile, please contact us or schedule an appointment for a consultation. You can also learn more about this topic by reading the Dear Doctor magazine article "How Your Dentist Can Help You Look Younger."